Ustad Online Client Application
This Application allows users to find professional service providers at their home/office. This app not only allows user to find professional but also contact, rate and a range of other features which are given below:
Hire the professional whenever user wants.
Monitor the status of Job.
Manage account, Update account details.
Stay Up to date about job through notification. 
Cancel the job.
Check Transaction History.
Check Balance.
Assign Job to professional.
Rate professional on his performance .
Review completed jobs.
See the location of professional.
Contact professional.
Application contains :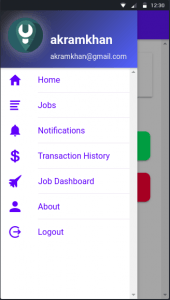 Get a Professional
To hire a professional Click here and fill out the necessary fields.

My account
User can modify account details here.

Jobs
All the active jobs are listed here.

Notifications
All the notifications can be viewed here.

Transaction History
History of all payments is displayed here.
Client App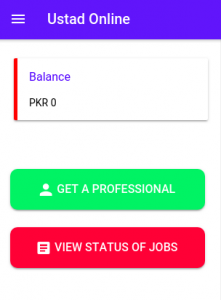 Download Ustad Online Client Application through Google Play
For User Guide Click me
For Sign up follow website registration Ustad Online Client Registration OR Download Ustad Online Client App
Want to become a professional? Follow me
For queries you can contact us here Contact Us